WFSA PRESS OFFICERS REPORT IGFA SHARK GRAND SLAM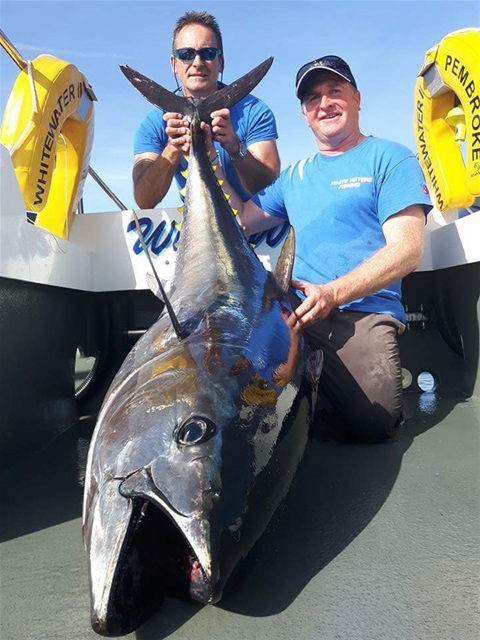 Andy Griffith a dedicated angler and long time friend of Andrew Alsop the shark skipper from white water charters are no strangers to big game fish the pair of them share a life long passion for the celtic deeps especially andrew alsop celebrating 20 years this year in the sharking game.
Heres the lads above with a cracking blue fin tuna of just over 300lb caught on one off there adventures.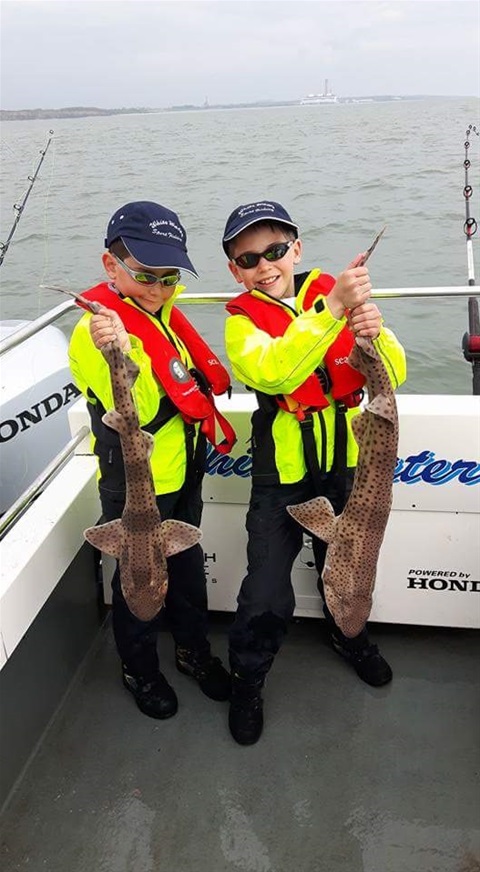 Andy makes the 320 mile trip to Milford Haven from Canterbury in Kent which takes about 5-6 hours, then a further 2 to 3 hours trip out to the sacred hurting grounds which only the skipper and his GPS knows the coordinates to.
He has regluar trips during the winter but at least two trips per month through the summer with white water charters soley hiring the boat for himself to try and acheive his goal. Andys two sons Sam and Harry also love the Welsh coast line and come along for the ride from time to time.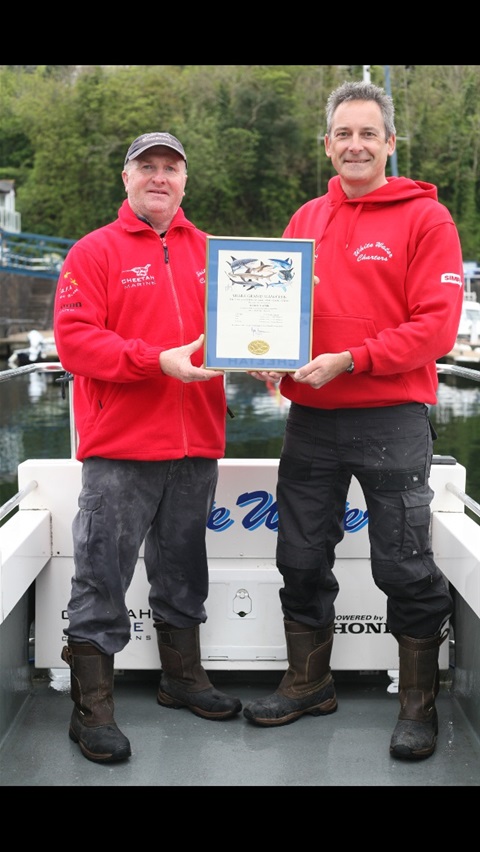 Back in July 2013 no one knew that this day would produce one of the worlds registered recorded bit off Angling history that can not be taken away from the celtic deeps or Andy Griffith.
Catching whopping 9 blues 1 porbeagle and the ultimate shark a mako the lads realised that they made history with a Short fin mako of 194.04lb.
A porbeagle shark of 119.7lb and a blue shark of120.4 lb. Three sharks in less than eight hours on a single trip all over 100lb leaving a Welsh port and returned to the same port with out a stop at any other port. They then must have the sufficiant evidence for the IGFA COMMITTEE to approve it this takes as you can tell a long time. But credit where credit is due the wait i think was worth it for Andy Griffith and for the skipper Andrew Alsop. A huge well done lads... Check out total sea fishing magazine this month where Andy Griffith is of on his adventures again catching a four figure in weight six gill shark.. But Andy told me that his next goal has got to be a dover sole of the shore local over 2lb. Well i think he needs to scale down abit on his tackle for that.
This has truly put wales on the map for local game fishing and im sure many people may claim around the world that they have done this but no body has registered it. Good luck Andy Griffith in you new ventures.. ALL SHARKS WERE CAUGHT ON ROD AND LINE AND SAFELY RELEASED.
Picture above is skipper and andy with there certificate. Pic by Gareth Davies Tsf.
Report by wfsa press officer
Swsa chairman
Robert Cole.
Www.wfsa.org.uk